Nau Mai, Haere Mai!
Nau mai, Haere mai, ki to tātou nei paenga tukutuku. Haere mai ki roto, ki te whakaako me ngā whakaaro o Te Ātiawa. No reira, tēnā koutou katoa.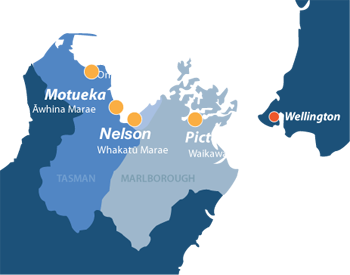 Te Ātiawa o Te Waka-a-Māui Trust (Te Ātiawa o Te Waka-a-Māui) represents Te Ātiawa people who whakapapa to Te Tau Ihu (the top of the South Island).
The Trust was established in December 2012 as the post settlement governance entity to enable Te Ātiawa to receive Treaty settlement from the Crown. The Deed of Settlement was signed on 21 December 2012.
Accordingly, Te Ātiawa o Te Waka-a-Māui has assumed the governance role for the iwi from the charitable trust, Te Ātiawa Manawhenua ki Te Tau Ihu Trust. The charitable trust will continue to exist within the wider iwi structure, and will primarily focus on giving effect to the iwi.

posted: 15 September, 2020