Latest News
Published: 30 January, 2019
Do your young people have stories to share, artworks to create or are they arts leaders in the making?
If you need support to help young New Zealanders (aged 10 to 25) attend, participate in or lead arts projects, we might be able to help.
We've recently launched three new funds to help more young New Zealanders benefit from greater involvement in the arts. In the first year of the five-year initiative, $500,000 will be available across these funds.
We are open to applications from a broad range of New Zealand-based individuals and organisations that have an arts focus, including schools, libraries, marae and youth development organisations.
It's late in the year, but we'd appreciate you sharing these new arts initiatives within your networks. The proposed projects need to be completed with 12 months of us offering the grant.
"We want more of our rangatahi to have the opportunity to explore their creative potential. These dedicated funds will help to generate more opportunities and also support young people to shape and create the arts experiences that appeal to them," said Creative New Zealand's Senior Manager, Arts Development Services, Cath Cardiff.
"We want more young people to enjoy the benefits that come from engaging with the arts; including increased confidence, a sense of inclusion and well-being as well as supporting initiatives that develop artists and audiences of the future."
Creative New Zealand developed these funds in response to the findings of our recent research (refer below), which identified opportunities for increased engagement in the arts by, with and for young people. They are additional to the funding we already offer.
Our new Toi Rangatahi fund
The three new funds have the following distinct approaches:
•             Toi Rangatahi Participation Fund – supports artists/organisations to provide opportunities for young people aged 10-14 to participate in high-quality arts activities. Grants up to $65,000 are available.
•             Toi Rangatahi Engagement Fund – supports established organisations that want to provide opportunities for people aged 15-25 to engage in high-quality arts experiences. Grants up to $65,000 are available.
•             Toi Rangatahi Leadership Fund – supports young people aged 15-25 to lead high quality arts projects by, with and for other young people. Grants up to $10,000 are available.
The deadline for applications to the funds is 1 March 2019. There will be a second round for the Toi Rangatahi Leadership Fund only, available on 26 July 2019.
To check your eligibility and see what's funded refer first to our website. If you have any additional questions or would like to discuss your project's suitability contact us on:
•             phone 0800 273 284
•             email funding@creativenz.govt.nz
Our office is closed from 24 December until 6 January, so we'll respond to any messages from 7 January 2019.
What the research say
New Zealanders and the arts research published by Creative New Zealand in May found that while young New Zealanders (10 – 14 years old) participating in the arts felt more confident and good about life, there was a decline in enjoyment as they entered their teenage years.
The research also found that 20% of young people (10-14 years old) wanted more access to the arts and would be more involved if it was cheaper to attend or participate, if their friends went and if there were more arts activities that appealed near where they lived.
The research also found that young adults (15-24 years old) were less positive about the arts in general than other adult New Zealanders.  More than 60% agreed they would attend arts events if there were more events that were relevant to them.
More information on how New Zealanders engage with the arts including regional reports and interactive dashboards
Published: 30 January, 2019
Wave 9
Opening date: Monday 21 January 2019
Closing date: Sunday 10 March 2019 at 12noon
Te Pūtahitanga o Te Waipounamu is pleased to announce that applications for Wave Nine ORA funding open on Monday 21 January.
Whānau Ora is about understanding ORA in its widest meaning – supporting whānau to be in charge of their destiny; to lead healthier lifestyles, to create the future they want for all our mokopuna to thrive in.
Ora also means Opportunity to Realise your Aspirations. 
All initiatives must be based within the South Island, the Chatham Islands or Stewart Island and must align with seven pou designed to achieve specific Whanau Ora outcomes, such as 'whanau will be responsible stewards of our living and natural environment' or 'whānau will lead healthy lifestyles.'  
We are calling on whānau to put forward their best ideas to invest in the future of all their whānau members, so that they may flourish.
Over the past four years, Te Pūtahitanga o Te Waipounamu has invested in whānau initiatives that include an organic garden and cookery school; maara kai; cultural tourism; a low-cost health village and land-based initiatives. Examples include resilience approaches for whānau, Pa Kids – an afterschool te reo programme for tamariki and caregivers; Koha Kai - creating meaningful employment and education opportunities within the disability sector and Reo Pepi – beautifully illustrated bilingual books for pēpi among other storytelling initiatives that are helping to build cultural connectivity and capacity.
We encourage whānau to head along to one of our workshops across Te Waipounamu. Details for the workshops are on our events page on Facebook or our website. We will also be hosting weekly Facebook live question and answer sessions so follow us on Facebook to find out more!  
We will provide a workbook and ORA application that needs to be completed and returned to us with supporting documents by the closing date.    Keep an eye out on Facebook for updates.
All you need to know will be available on our website from Monday 21 January
*This year we're asking for written applications to be completed on the application form that can be downloaded from our website. Applications will then need to be submitted via email, couriered or delivered to us kanohi ki te kanohi.
*Applicants have until Sunday 10 March at 12 noon to email applications.
*If you are delivering your application in person or via courier it needs to be at our office at 10 Show Place, Christchurch, by Friday 8 March at 5pm.
Wave Nine Workshop Roadshow Dates
(*Please share events near you with your networks - Facebook event links included below).
Kaikoura Community, Monday 28 January, 5.30-7.30pm, Kaikoura Conferencing Room, 96 Esplanade
https://www.facebook.com/events/207074393507715/
Blenheim (Grovetown) Community, Tuesday 29 January,
2-4pm, Ukaipo, 1 Fell Street, Grovetown, Blenheim
https://www.facebook.com/events/296076661041259/
Christchurch Community; Tuesday 12 February, 5-7.30pm, Te Pūtahitanga o Te Waipounamu, 10 Show Place, Addington Christchurch
https://www.facebook.com/events/307269883240904/
Christchurch Community, Wednesday 13 February, 3-6pm, Te Pūtahitanga o Te Waipounamu, 10 Show Place, Christchurch
https://www.facebook.com/events/921939364680103/
Westport Community, Wednesday 6 February, 5-6pm,
NBS Theatre 105 Palmerston Street, Westport
https://www.facebook.com/events/2148428528804509/
Hokitika Community Hui (Arahura), Thursday 7 February, 5.30-7pm, Arahura Marae, 651 Kumara Junction Highway, Arahura
https://www.facebook.com/events/1197733697057890/
 Queenstown Community, Sunday 10 February, 11am-1pm,
Ngai Tahu Tourism Offices, 159 Gorges Road, Unit 29, Queenstown
https://www.facebook.com/events/315631175709708/
Motueka Community, Monday 18 February, 5.30-7pm,
Te Awhina Marae, 133 Pā Street, Motueka
https://www.facebook.com/events/367005977465129/
For more information:
Website: teputahitanga.org
Facebook: @teputahitanga
Freephone: 0800 187 689
Email: WaveNine@teputahitanga.org
Published: 30 January, 2019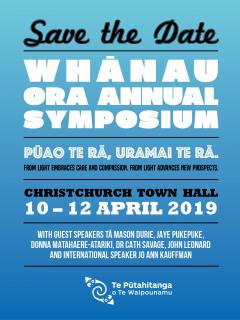 save the date2 - (311 KB JPEG image - good for photos) »
Published: 30 January, 2019

WAVE 9
Wave 9 ORA Application Form - (91 KB unknown) »

Wave Nine Ora Booklet A5 - (416 KB Adobe Acrobat PDF file) »
Published: 30 January, 2019
Māori Education Trust 2019 Scholarship Round is Open
The Māori Education Trust 2019 Scholarship Programme is open and offers scholarships to Māori secondary school and tertiary students who meet the respective scholarship's criteria. 
The 2019 Tertiary Scholarship Programme is made up of the following scholarships:
Undergraduate
Frances Irwin Hunt Art Scholarship
Māori Education Trust Undergraduate Scholarship (New)
Nicholas Irwin Hunt Writing Scholarship
Norman Kirk Memorial Scholarship
Rose Hellaby Bursaries Scholarship
Roy Watling Mitchell Bursaries Scholarship
Sir Apirana Ngata Memorial Scholarship
Sister Annie Henry Scholarship
Tī Maru Māori Trust Scholarship
Postgraduate
Eric Hall McCormick Scholarship
Māori Education Trust Postgraduate Scholarship:  Hapū or Iwi Development (New)
Māori Education Trust Postgraduate Scholarship:  STEM (new)
Pae Tawhiti Scholarship (to open early 2019)
Queen Elizabeth II Postgraduate Fellowship
Rangiriri and Mātene Te Whiwhi Winiata Scholarship
Rose Hellaby Postgraduate Scholarship
Roy Watling Mitchell Prestigious Professions Scholarship
Tī Maru Māori Trust Prestigious Scholarship
Certificates, National Certificates and Diplomas:
Regina Rudland Memorial Scholarship
We would appreciate it if you would pass the attached flyer to your staff, students, and those within your community who would benefit from a scholarship. 
While applicants are encouraged to apply on-line at www.maorieducation.org.nz, applicants can download an application form and guideline from the site, or contact us and we will forward copies by email or post.
If you would like more information, please do not hesitate to contact the office on 04 586 7971,
text: 027 262 8046, or email: info@maorieducation.org.nz.

2019 Tertiary Scholarship Flyer2 - (297 KB Adobe Acrobat PDF file) »