Noticeboard
Posted on 10 May, 2022
* Archived - This notice has expired and is published for archival purposes only.

Kia ora e te whānau,
We're proud to announce the appointments of Joanie Wilson (Ngāti Koata, Ngāti Rārua, Ngāti Tama and Te Ātiawa) and Michael Edmondson (Te Ātiawa) as our latest associate directors. Amonuku, our programme for associate directors and managers is an important part of our succession planning for the future of Wakatū, particularly in the governance and management spaces.
Joanie and Michael will undertake an induction programme in 2022, including being involved in board planning, undertaking site visits and attending the special and annual general meetings. From 2023 Joanie will serve on the Whenua board and Michael will serve on the Kono board and in 2024, they will both serve on the board of Wakatū.
Both Joanie and Michael are looking forward to using their skills, knowledge and experience to contribute positively to the future of Wakatū. You'll have the opportunity to meet them during their time as associate directors, and you can find out more about Joanie and Michael below.
Joanie Wilson - Ngāti Koata, Ngāti Rārua, Ngāti Tama and Te Ātiawa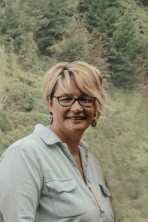 Joanie's connection to Wakatū is through her mum, Joan Carew, and their tupuna Renata Ohiohi. Joanie was born and raised in Whakatū, where she lives with her whānau. Joanie has been on the whakapapa wānanga series, Te Rākau Pakiaka. She is passionate about Māori leadership, and using her skills and experience from both the education sector and her various community roles to help ensure a positive future for all whānau, so everyone has the opportunity to thrive.
Joanie works in the national office of Te Tāhuhu o Mātauranga, the Ministry of Education as a change manager.
She has extensive governance experience at both a regional and national level, and has highly developed skills across strategy, planning, stakeholder management and community engagement.
Joanie is currently on the Nelson Marlborough Institute of Technology Board and is on the steering group for Te Tauihu Regional Intergenerational Strategy. She was the Chair of Ngāti Koata Trust board from 2018 to 2021. She gained a Bachelor of teaching and learning: early childhood education from the University of Canterbury and has since further study including Te tuara me te Tinana o te Reo (levels 3 and 4) at NMIT and Poutāhū Whakaakoranga, a post-graduate diploma in Māori medium education at Postgraduate: Māori Education at Te Wᾱnanga o Raukawa.
" I bring to the associate director role a mana whenua wahine leadership lens and experience. I share the same vision of Wakatū in that being a good ancestor, and I'm looking forward to using my range of skills, knowledge and resources to contribute to the vision, values and tikanga so that all Wakatū whānau can flourish."
— Joanie Wilson.


Michael Edmondson - Te Ātiawa
Michael's connection to Wakatū is through his mum, Jean Tuanui, and their tupuna Metapere Rahira. He took part in Ahi Kaa in 2022.
Michael was raised on a sheep and beef farm near Tākaka, where he developed a strong interest in the interconnectedness and interrelationship of land, water, ecosystem health and the wider environment. He brings with him knowledge and skills on sustainability and sustainable practises and a passion for taiao.
Michael and his whānau currently live in Ōtautahi where he works as a sustainability advisor at Synlait Milk Limited.
He co-leads Synlait's on-farm sustainability implementation programme, and is involved in Whakapuāwai, Synlait's large-scale native revegetation programme. He has been employed in environment-focused positions in the primary industries in both government and private sectors, for nearly 15 years. He has a Bachelor of Environmental Management, majoring in natural resource management from Lincoln University. He is also the owner of an agricultural sustainability and environmental consultancy and a shareholder/director in a family owned Mānuka honey operation in Mōhua.
"Being an associate director means I can share my knowledge, skills and passion for sustainability and the natural environment to support the work of Wakatū. I also have a strong desire to broaden my knowledge of governance as well as deepening my understanding of te ao Māori."
— Michael Edmondson