Past News
Published: 27 November, 2020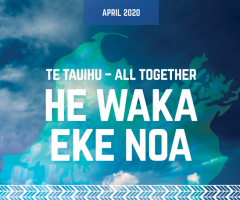 Tēnā koutou e ngā iwi o Te Tauihu o te Waka-ā-Māui 
PĀNUI FOR WHĀNAU – MESSAGE 9, APRIL 22:  Flu jabs 

COPY FOR SOCIAL MEDIA/EMAIL PĀNUI/WEB:  

Don't delay, get your flu jab now 
Dr Lorraine Eade, a Senior Advisor at Te Puni Kōkiri, has been working hard on the ground as Manaaki a-iwi lead for Rōpū Kōkiri ā-iwi (K.A.I.) within the Civil Defence Covid-19 response in Te Tauihu.
Her number one piece of advice? "Get your flu jab whānau."  
"We're in the midst of Covid-19 and it's really important that we protect ourselves.
"One in four people get the flu each year. If you have a chronic health condition, are aged over 65, have tamariki aged under four who have respiratory problems, or are hapū, then you can get your flu vaccination now and for free."
Regardless of our age or health status, we should all think seriously about getting a flu jab this season. If you haven't had one before e te whānau, now is the time, even if you do not fall into the above categories. It's easy, doesn't hurt and will help protect you.  
All you need to do is contact your GP. Some pharmacies are also offering the free service. They are listed online here:
Click here for more information »
Published: 24 November, 2020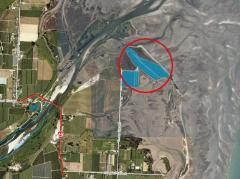 Kia ora koutou,
After the recent rains (183mm since 2 Nov) and the related increase in groundwater level (0.5m by Friday) under Motueka, flows to the wastewater treatment plant have exceeded the treatment rate since 02 November 2020. This has resulted in a rapid rise in the oxidation pond water level. There is a risk that the pond could reach overflow point (approximately 4.2m) in the next rain event, forecast for Tuesday evening (Nov 24) and into Wednesday and another following on Sunday.
TDC has permission to carry out an emergency discharge of partially treated wastewater to the adjacent planted area, which used to be the sand filter and soakage area. The ex-sand filter covers approximately 3.5 hectares and has been planted in 30,000 natives. A discharge of 1000m3 to this area would be less than 3mm of liquid per day, equivalent to a small rain shower. TDC anticipates the sand will provide good removal of bacteria, as it has done in the past, and don't anticipate any elevated bacteria on the beach. Monitoring of the one remaining groundwater bore downstream of the planted area will be undertaken to confirm this.
Over pumping will only occur while an operator is on-site, so the water levels and any impact on the planted area can be monitored. This will also allow the area to drain away overnight.
Signage is being put up at the planted area advising of the discharge. The usual signage warning of the treated wastewater discharge remain in place by the outfall and on the beach.
Continued tracing of inflow and infiltration and repairs remains a priority.
Please contact TDC on 03 543 8400 if you have any questions.
Published: 23 November, 2020
The Consumer Council is an advisory group to Nelson Marlborough Health (NMH). It comprises of community representatives who provide a strong voice for the community and consumers on health service planning and provision. The council provide input into a wide range of initiatives and projects. They also share stories and themes from the community to help NMH understand what matters and what's happening for health consumers across our region.  We are looking for people who have the following attributes:
A genuine interest in the health sector and wants to advocate for a consumer-centred health service
Experience of the health system to advocate for consumer interests
The confidence to ask questions and share your views in a group and with staff
A range of connections and networks in the community, and an ability to bring the voices of the community to the group
There is more detail information, including the expression of interest form on our website here:  https://www.nmdhb.govt.nz/quicklinks/about-us/governance/consumer-council/join-the-nmh-consumer-council/
Organisations can also nominate people so if you know of someone and they are happy to be nominated we would love to have a nomination from you. Alternatively it would be great if you can share with your networks to help spread the word in the community.
If you or anyone would like further information or to talk about the role please get in touch with me, I'm really happy to discuss.
Expression of interest close on 29th November 2020
Published: 18 November, 2020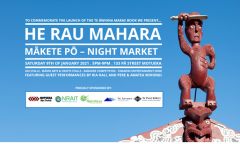 Calling all stall holders! Register NOW - NO COST for securing a site!  
As time is running out fast before Xmas, we may not be able to run a Mākete Pō before then however for now, we have locked in a partnership to hold one in early Jan 2021. 
There will be no cost to stall holders, Te Awhina will provide everything from generators, portaloos, bouncy castles, tables and chair for whānau to sit and have kai.   
Motueka Mai Tawhiti Juniors have been funded to tautoko a community event, so they will do all the set up, pack down, rubbish clean up and anything else we may need them to help with. So all our members have to do is turn up, set up, sell their wares then haere atu.   
We will still make a call whether a Mākete Pō could possibly be held before Xmas once the committee look at the logistics. 

He Rau Mahara Information for Stall Holders - (186 KB Adobe Acrobat PDF file) »
2021 He Rau Mahara Stallholder Registration Form Word2 - (59 KB unknown) »
Published: 18 November, 2020
Listed: 17/11/2020
Nelson / Ngati Koata Trust

We have an exciting new career opportunity available for an Office Administrator to help assist with the projects and initiatives of the Trust.

---

 
 

Listed: 11/11/2020
Christchurch / Ewing Poultry

Seeking a sales and delivery rep to be the face of our company in the region, providing great service to our customers and growing the local market

---

 
 

Listed: 03/11/2020
Motueka / Te Awhina Marae

We are seeking a General Manager to undertake the management duties of the Marae and support the aspirations of the Marae community

---

 
 

Listed: 03/11/2020
Nelson / Ursula Hair Design

Seeking an enthusiastic Apprentice to join our team. An opportunity to create a a career path in Nelsons most highly recognised Salon

---

 
 

Listed: 16/10/2020
Nelson / Ngati Tama ki Te Waipounamu Trust

We are looking for a content savvy Communications Advisor with excellent writing skills and content creation experience. Fixed term 12 months.
New vacancies coming….